VE Series 1 and 2 Reverse Camera Kits
"Once you have it, you can't go without it!"

Features
These fully equipped kits provide the ability to add a reverse camera into a factory VE series 2 radio. Our kits seamlessly integrate into the factory headunit, displaying the reverse camera as soon as reverse is selected. Never get caught out again from people, cyclist or kids behind your car while reversing! The kit includes a brand new reverse camera, installation guide and a flash module to enable the reverse camera in the headunit.
There are two camera styles available
Drill  mount reverse camera (Left)
License plate light reverse camera (Right)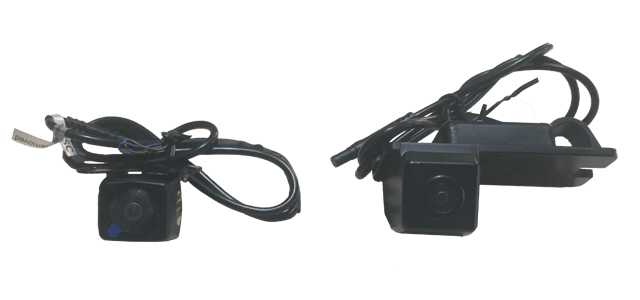 Which Camera do you Need?

The Drill Mount Camera allows for adjustable angle and requires drilling a small hole in the boot lid for the camera to be mounted, this is suitable for all Series 2 Sedans, Wagons and Utes. This is our HIGHLY recommended option as overall it is a better camera and allows changing viewing angle to suit your personal preference.
The License Plate Camera replaces the existing license plate light, it has its own inbuilt light to replace it, it is ONLY suitable for Series 2 Utes and Wagons. It does not require any drilling but does not allow changing viewing angle.
Kit Options!
Wiring: Factory series2 sedans and wagons also have a wiring option for a plug and play option (no soldering), this requires replacing a short section of boot harness and does not require running any wiring to the front of the vehicle (Makes it VERY quick and easy!).
ALL series2 utes and all S1 to S2 IQ conversion vehicles must select solder option.
Flash Box: The supplied flash box also has two options:
1) Keep it ($100). You can keep the flash box for life (incase you ever change headunits? Or just like the look of it?!). Once the unit is programmed, it never needs to be programmed again.
2) Return it ($80 refunded). If the returned option is selected then a core deposit of $80 is added to the kit. This deposit is returned as soon as the flash box is returned. The deposit is there to ensure the flash box is returned without any damage or tampering.
How Hard is it to Install? How long does it take?
All our kits include an installation guide suitable for your vehicle. The DIY kit takes approximately 1-3hours to install depending on the person and previous experience with installations on vehicles. Our kits have been installed by many clients Australia wide which have happily followed our guides to successfully install a camera!
Our guide can be provided as both a printed and digital copy, so please don't hesitate to ask!
Once the camera has been installed and connected to the car, its then just a matter of plugging in our flash box  to enable the reverse camera!.
Please select the kit for your vehicle type:
---

This kit allows any Series 1 SSV/Calais colour screen unit to display a reverse camera image.
Series 1 camera kits are similar to series 2 except a small module is also hooked up to the car to allow the reverse camera to display when reverse is selected.