VT VX VY VZ Body Diagnostics
"Quick, simple and easy to use! Everything you need for professional body diagnostics!"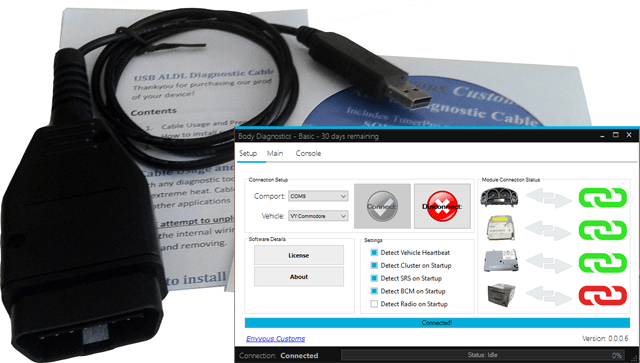 Body Diagnostics (BD) provides professional diagnostics previously only available to auto electricians with expensive scantools!
Our cables and software provide abilities and features including:
Read LIVE data from Body Control Module including reading and clearing faults!
Perform details SRS airbag analysis to find and remove those pesky airbag faults and issues!
Advanced Instrument Cluster programming including custom fuel tanks, Custom logo and Police Mode.
Read LIVE data from Instrument Cluster including fault codes.
Easy to use one click connecting software!
Regular automatic updates for the latest developments
And much more!
---

This video demonstrates Body Diagnostics being used on a VY and VT body modules!
---

"Simply put.. Everything."
Body Diagnostics is an advanced diagnostic software that literally has all the main diagnostic abilities found in professional diagnostic scantools.
It has full capabilities of obtaining current and history trouble codes as well as live readings of modules current status and configurations.
The available modules to read include the Body Control Module (BCM), Instrument Cluster, SRS Module (SDM), and factory radio.
Super easy to use! I thought only mechanics with expensive scantools could do this!
"I fitted a HSV Cluster into my
VZ SV6 without a hassle! Even
cleared the airbag light!"

---

The supported Holden Commodore vehicles for Body Diagnostics with our ALDL diagnostic cable include:
VT V6 and V8
VX V6 and V8
VY V6 and V8
VZ V6 and V8
---

"The complete tools for modifying your ride."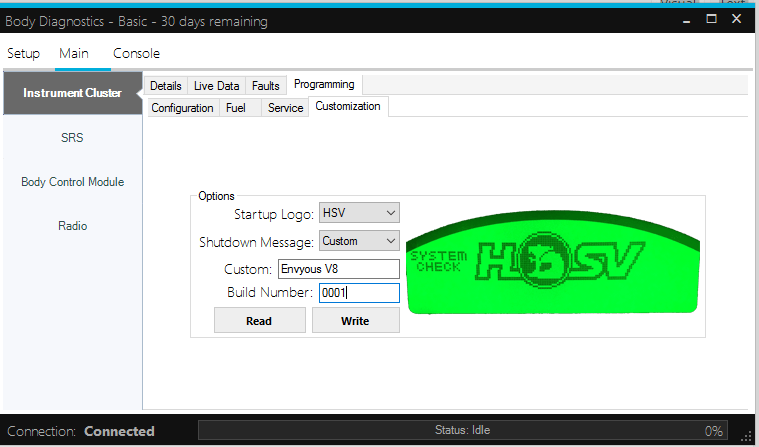 Ever wanted to change the standard Holden startup logo on the instrument cluster? Or wanted to put a custom message to show off to your friends? Then heres the table your after!
There is a choice of 3 startup logos as well as 13 preconfigured shutdown messages and the option for a custom message and build number. This feature was normally limited to only HSV's although it can now be set on any cluster!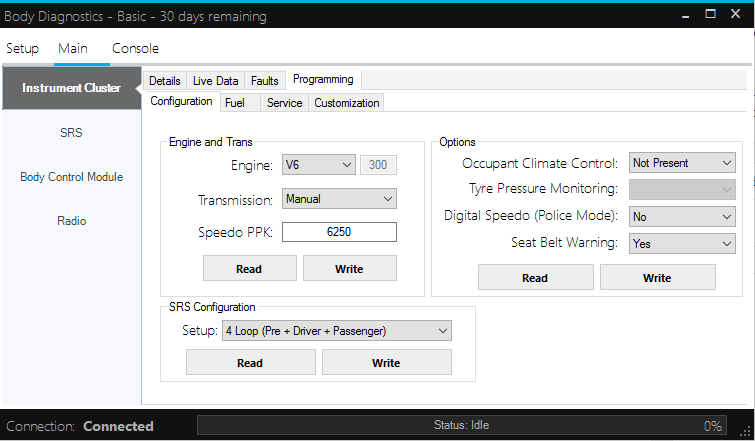 The Configuration menu allows reading and writing of the most common parameters in the cluster.This is a must have when upgrading or changing a cluster. Im sure anyone that has changed a cluster, or looking to change there cluster, has heard of the infamous SRS warning light being set due to an invalid configuration!
Well this table will fix that issue, as well as change all other major parameters including transmission type, engine size (v6/v8), speedo calibration and other options such as seat belt or occupant climate control. And last by not least, the famous police mode, which will set a large digital speedo on any VY clusters.
"Custom fuel tank? Aftermarket fuel sender? No Worries!"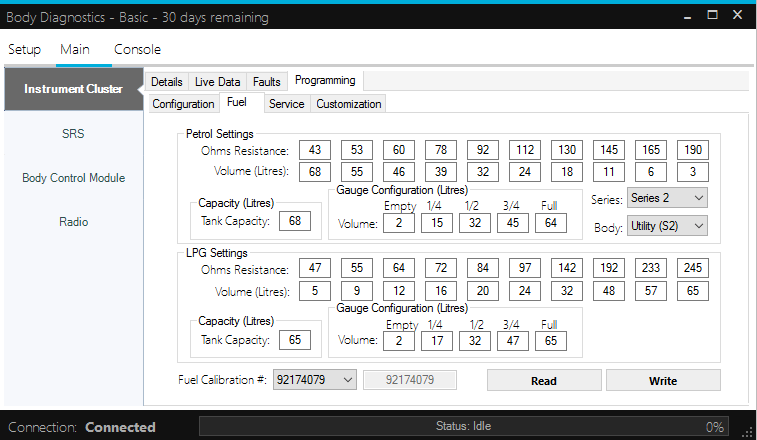 Have you installed a custom fuel tank or fuel sender? Put a cluster from a ute into a sedan? Then the fuel table is what you need.
The fuel table provides complete control over fuel settings allowing the choice of predefined body configurations or editing for a complete custom fuel map.
A simple click of a button will reconfigure the clusters fuel settings to suit that of any Holden Commodore

---

"Whats causing that Airbag light!.. Our SRS Diagnostic scanner Knows!"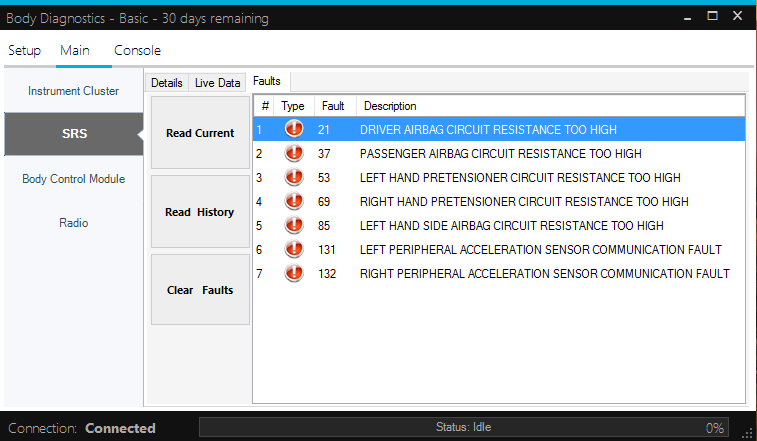 A common mistake of removing the passenger seat and starting the car leads to setting off the SRS alarm on the cluster screen and logging a fault in the SDM.
The SRS fault code reader will display any current or history fault logged in the SDM module. It will provide the DTC code number as well as a detailed description of the error, providing the ultimate tool to finding,understanding and clearing faults. A silly mistake like this can cost up to $150 to be cleared using a scantool!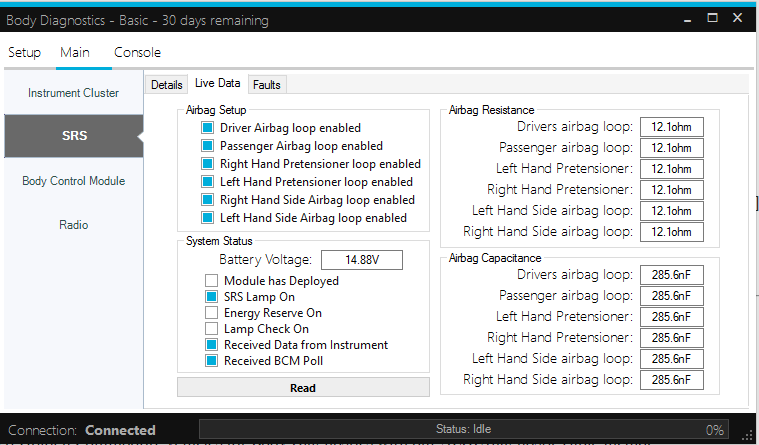 Some times the fault log is just not enough to narrow down an issue. If you have checked the fault log, but theres an unknown fault or your not exactly sure whats wrong. The SRS LIVE data can be viewed, giving a detailed analysis of the system including current resistance and capacitance of each airbag loop.
This table also informs whether the SRS module has been deployed previously which is an immediate indication that the car has been in a crash!
---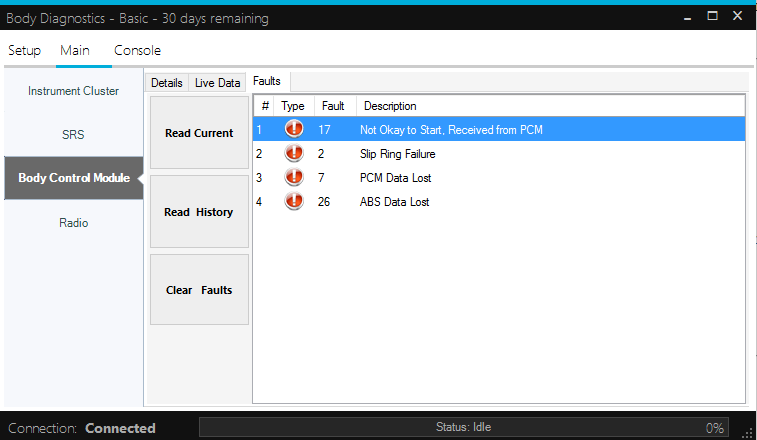 The Body Control Module (BCM) section allows reading fault codes including both current ad history faults to track down this intermittent issues! It also supports live data viewing of all sensors,indicators,relays and security to check that all are working correctly.
Simple functions such as slip ring enabled and key status can indicate whether a valid key has been entered or if there is a connection issue between the key and slip ring, which results in preventing the car from starting.
---

NOT YET ADDED TO BODY DIAGNOSTICS
---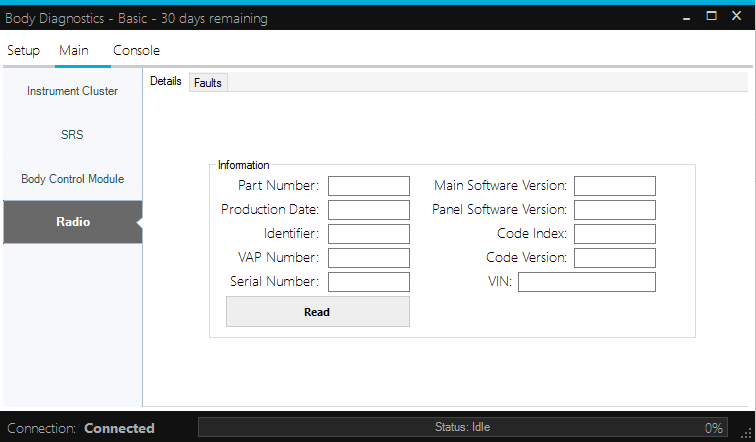 The stock headunit can be a headache when it displays the "enter pin" screen. If the pin is unknown then this menu can be used to obtain the radios orignal VIN number which can be used at a Holden dealership to obtain the radios PIN code.
The radio section also provides detailed fault reading to determine if there are any problems including stuck CD stacker or misconfiguration
---

Basic - including aldl cable

Brand New USB ALDL Diagnostic Cable

Unlimited Usage for 30 days

Professional - including aldl cable

Brand New USB ALDL Diagnostic Cable


Unlimited Usage for 365 days!

Free Updates including BETA updates

Priority Service and Help!

Over 70% saving per month!

 
---

The subscription packages above include the following:
VT – VZ Body Diagnostics (BD) License serial
USB ALDL Diagnostic Cable – 100% tested to work with all Envyous Customs ALDL software
Printed quick startup guide to get hooked up quickly!
Professional CD with all required installation files, Software, guides and tutorials!
Most of all, professional customer service to help out with any questions!

---
Already got an ALDL Diagnostic Cable? Purchase Body Diagnostics Separately!
Basic - only software subscription

Unlimited Usage for 30 days


professional - only software subscription

Unlimited Usage for 365 days!


Free Updates including BETA updates

Priority Service and Help!

 
---
Having Trouble Adding to Cart? Try the links below!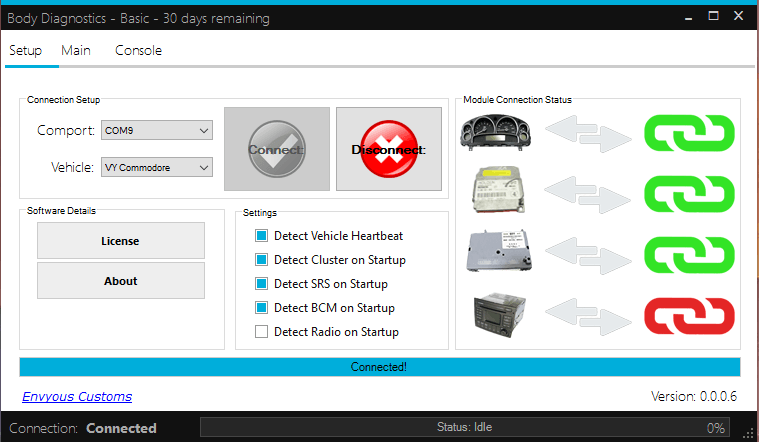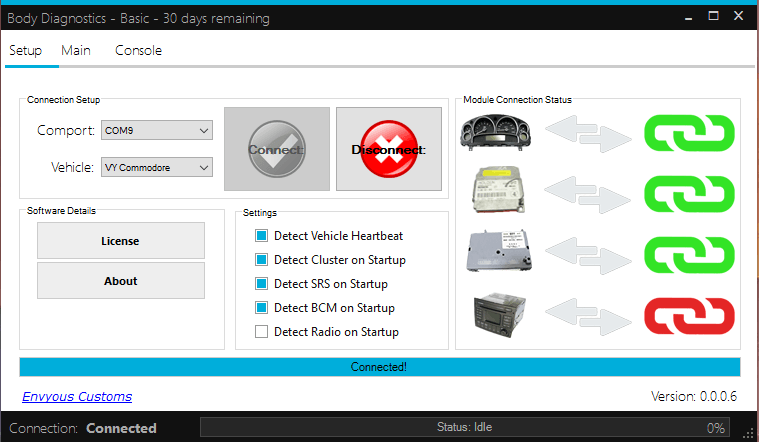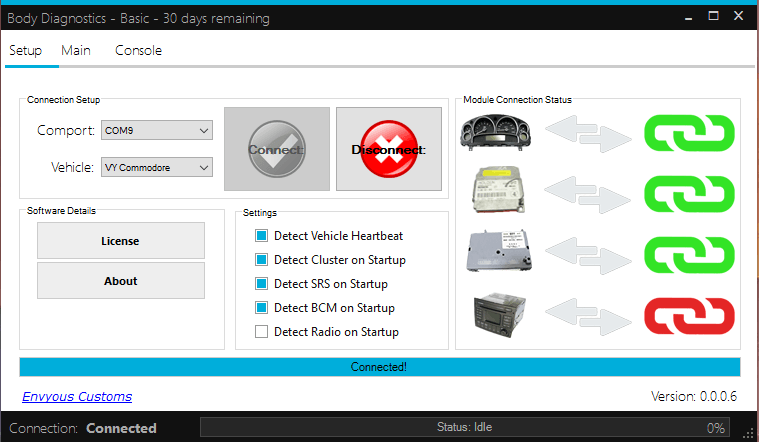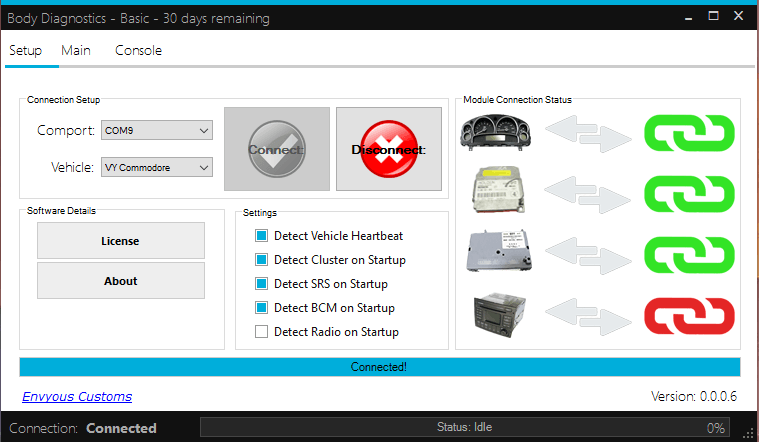 ---

Whether your a mechanic, auto electrician, a DIY kinda guy or simply are a commodore enthusiast,  VT-VZ Body Diagnostics is the ultimate software package for repairing, diagnosing and customizing your Holden commodore!
---

All of our software is only suitable for activated licensed Windows, the supported windows versions include:
Windows XP
Windows Vista
Windows 7 and 8
Software license serials can only be used once to register the software to one computer. Body Diagnostics (BD) is Subscription based licensing. For more details on Licensing and computer requirements, please see our computer requirements page found here