ALDL Cable

"Professional diagnostic tool, easy to follow tutorials, excellent service!"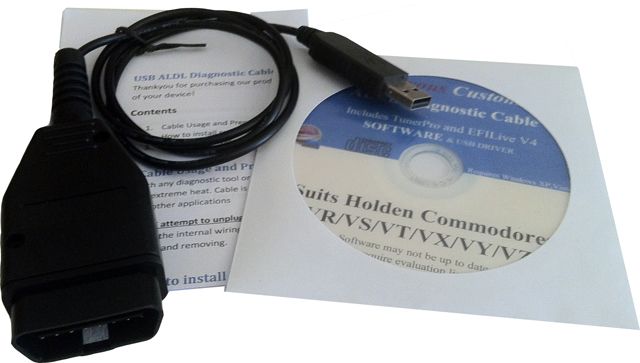 ALDL (Assembly Line Diagnostic Link) is the communication protocol used in VR-VZ Holden Commodores to allow reading diagnostic information such as live engine data. The ALDL cable is required to be plugged into the Cars diagnostic port to allow communication between the car and computer.
ALDL cable is an OBD1 diagnostic scantool suitable for diagnosing engine fault codes and live engine data!
Our cables and software provide abilities and features including:
Reading engine fault codes
Clearing fault codes and ENGINE LIGHT warnings (CEL)!
Reading live engine data
Easy to use one click connecting software!
Advanced Engine Diagnostics (AED)
And much more!
Envyous Customs HIGHLY recommends purchase of a top quality ALDL cable to ensure a solid connection is made with the vehicle to prevent any connection issues. There are some poorly made and developed cables on ebay which have known connection issues and pick up incorrect data!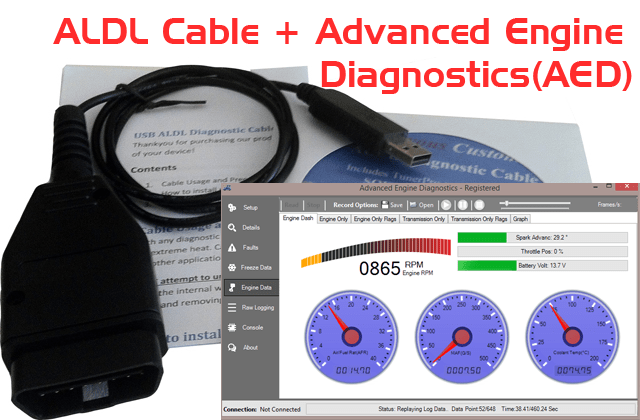 ---
What can I do with an ALDL cable?
Checkout the below video demonstrating how to use our very own software, Advanced Engine Diagnostics (AED) which is included with every cable purchase!
---
Which Holden Commodores are supported?
The supported Holden Commodore vehicles for reading engine data with an ALDL cable include:
VR V6/V8
VS V6/V8
VT V6
VT 5L V8 (Does not work on VT LS1)
VU V6
VX V6
VY V6
SuperCharged V6
---
What is included with an ALDL cable package?
All ALDL cable diagnostic packages come with the following:
Advanced Engine Diagnostics (AED) License serial
ALL engine data/fault viewing software provided on disc! No downloading needed!
USB ALDL Cable – 100% tested and checked to work with supported Envyous Customs Software
Printed quick startup guide
Professional CD  with all required installation files, Software, guides and tutorials!
Most of all, professional customer service to help out with any questions!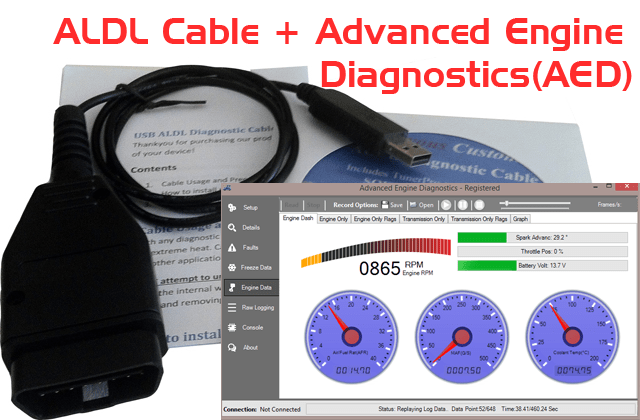 ---
What other software can I use with an ALDL cable?
Also shown below is a demonstration of EFILive V4, TunerPro v5 and even a quick look at our SRS Diagnostic Tool software (SDT license is not included with ALDL cable).
---
Why Buy from Envyous Customs
Each of our ALDL Cables are hand made, hand tested and individually inspected for any issues to ensure all ALDL Cables are in working order. Our extensive testing also ensuring the cable installs the required device drivers as well as being fully tested using all diagnostic software's on a Holden Commodore. So when it comes to the reliability of an ALDL Cable, Envyous Customs has you covered.
---
Do I need an ALDL Cable or an OBD2 Cable? 
If your unsure, check above at the support vehicles or check out our ALDL Cables vs OBD2 Cables discussion outlining the difference between these two diagnostic tools and which vehicles they are suited for!
---
How do I Install the ALDL Cable?
Watch this short tutorial on how to get setup!

It can be done in 4 easy steps:
First off, make sure that the ALDL cable is NOT plugged in!
Navigate to the driver folder on the provided CD, or to the ftdichip.com website and download there VCP drivers (Virtual Com Port)
Double click the executable file (.exe) and follow the prompts to install
Plug your cable in, sit back relax and let windows do the rest!
---

All of our software is only suitable for activated licensed Windows, the supported windows versions include:
Windows XP
Windows Vista
Windows 7 and 8
Software license serials can only be used once to register the software to one computer. For more details on Licensing and computer requirements, please see our computer requirements page found here