Unlock My ECU
"Easy to use! And finds the key on any locked ECU!"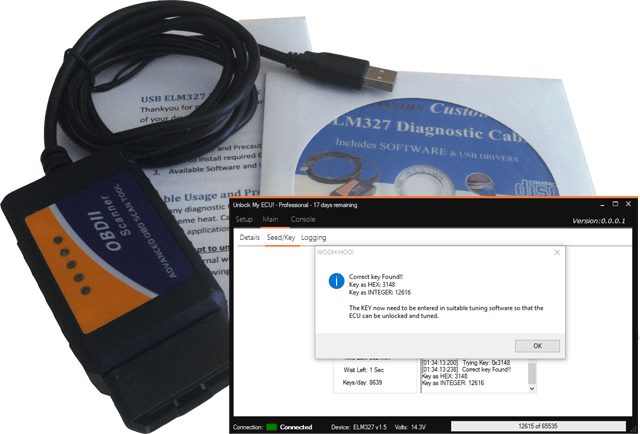 Unlock My ECU (UME) is the worlds first Holden dedicated ECU key finding software.
Unlock My ECU's whole purpose is to find the "password" or "Key" that is required to be entered into tuning software to unlock and get into ECU's and TCM's allowing dedicated Tuning shops or even the DIY'ers to retune their vehicles!. Unlock My ECU's features include:
Read out calibration Part Numbers, Vehicle Identification number and Serial numbers
Change and write a NEW vin on supported ECU's!
Quickly Check Seed/Key combinations
Bruteforce and find ANY Key for Locked ECUs and TCMs
Fail Safe system that logs progress incase of disconnect during unlock search!
The worlds ONLY dedicated Holden ECU/TCM key finding software!
---

Think of the ECU key (Password) like the 4 digit passcode on your iphone or android. Without the correct password, you cannot access anything on the phone such as images or messages. You can only access this content AFTER the correct password is entered, which unlocks the phone allowing access!
ECU's work the same way, they need the correct key entered everytime you want to read or write a tune. This process of entering the key each time is called "unlocking". Without this key, noone can retune the vehicle, this includes all commercial tuning software and also Holden factory scantools.
UME's sole purpose is to find this key. It does not edit or remove the "lock", it exclusively searches out for the correct key that allows access into the ECU. The key is found by bruteforce (No, not with a hammer!), which means it tries every single possible combination until it finds the correct key!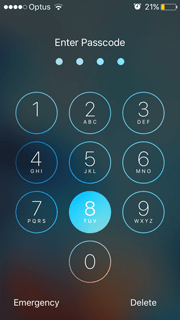 ---

The key needs to be entered into suitable software so that the ECU can be read and written to.
The BEST option available is to use TunerCats to write a fresh file into the ECU so it is back to stock standard. This is a three step process as seen below:
1. Flashing the ECU back to a standard operating system (OS) will prevent any issues with incompatible operating systems with EFILive or HPTuners.
2. The ECU can then be set back to the default key using EFILive's lock/unlocking feature.
3. Finally, the ECU is fully accessible through EFILive for tuning as the ECU has been returned back to Factory conditions. Please note that HPTuners may still not be be happy due to the way HPTuners reads tunes from the ECU thus is not recommended to use.
Many tuning shops have different methods to wipe an ECU back to factory after obtaining the key, but the above is the most popular, kindly donated/shared by a bunch of great tuners!
Other tuners have mentioned that once they have the key, they can load up a stock calibration and simply flash that straight into the ECU to overwrite any custom OS. So its a matter of trial and error to see what works for you!
---

The short answer is maybe!
It depends on which tuning software you are using, and if the ECU has a custom OS.
EFILive and HPTuners can both be used without TunerCats BUT there are a few conditions outlined below:
If an ECU has a custom OS, it can ONLY be read/written to using the same tuning software that installed the Custom OS. Eg. A Hptuners 2bar OS will not be recognized in EFILive.
If you are using HPTuners, and you read out an ECU that has been locked by a different tuner that used HPTuners, then you will receive an error saying "Locked by another tuner".
This is a HPTuners specific lock, Reading the same ECU out with EFILive does not have this problem. Please see the bottom of this page for more details about the HPTuners tune lock!
If the ECU is a locked HPTuners Custom OS ECU, it cannot be edited/written using Hptuners due to the "tune" lock, and EFILive will not recognise the Custom OS. Only TunerCats will be able to flash in a factory tune to remove the custom OS.
---

The supported Holden Commodore vehicles for Unlocking ECUs with an diagnostic cable include:
All LS1 V8s including VT, VX, VY, VZ LS1 V8
VZ V6
VZ LS2 V8
VE V6
VE V8
VF V6
VF V8
---

Brand New USB ELM327 Diagnostic Cable
Unlimited Key finding for 30 days
Brand New USB ELM327 Diagnostic Cable

Unlimited Key finding for 365 days
Priority Service and Help
Over 70% saving per month!
---

The subscription packages above include the following:
Unlock My ECU (UME) License serial – The only dedicated key finding software available!
USB ELM 327 Cable – 100% tested to work with all Envyous Customs OBD2 software
Printed quick startup guide to get hooked up quickly!
Professional CD with all required installation files, Software, guides and tutorials!
Most of all, professional customer service to help out with any questions!
---

This video demonstrates how UME can be used to find the unlock key on any ECU or TCM. And also shows how to even change
VIN's on supported vehicles!
---

All of our software is only suitable for activated licensed Windows, the supported windows versions include:
Windows XP
Windows Vista
Windows 7 and 8
Software license serials can only be used once to register the software to one computer. Unlock My ECU (UME) is Subscription based licensing. For more details on Licensing and computer requirements, please see our computer requirements page found here
---
Already bought our ELM Diagnostic Cable?
Purchase Unlock My ECU Separately!
*Note: First time buyers MUST purchase the full kit to ensure you have a reliable and functioning diagnostic cable.
Basic - ONLY SOFTWARE SUBSCRIPTION
Unlimited Key finding for 30 days
Professional - ONLY SOFTWARE SUBSCRIPTION
Unlimited Key finding for 365 days
Priority Service and Help
Over 50% saving per month!
---
Having Trouble Adding to Cart? Try the links below!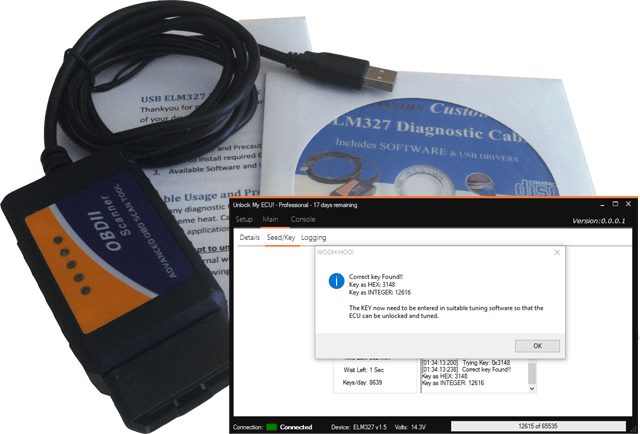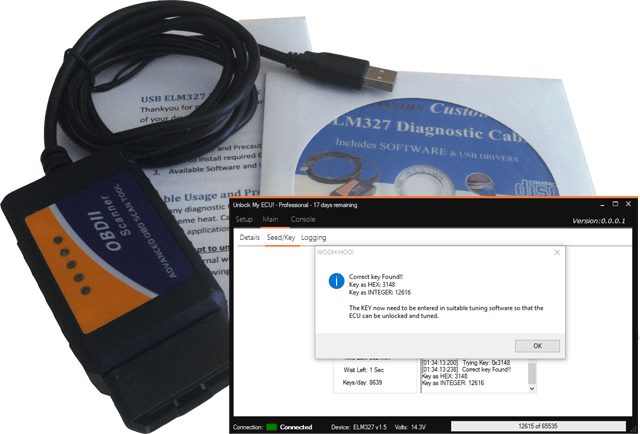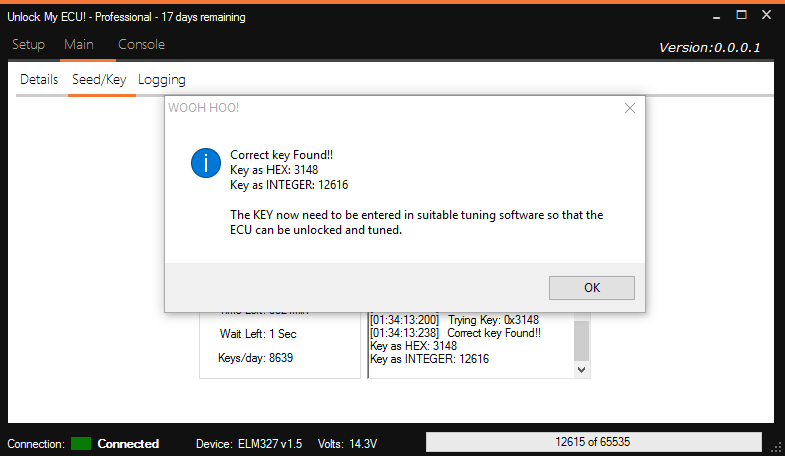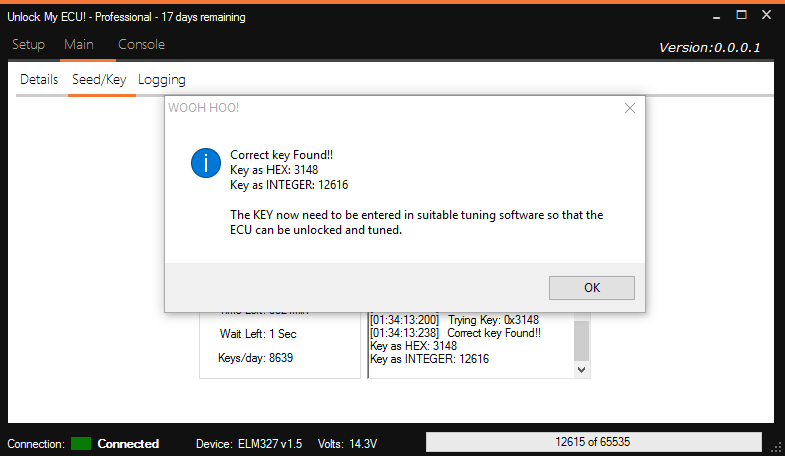 ---
Here is a few Common Questions!
 Q: I only have HPTuners, can I just use that with the key?
A: Maybe, HPTuners is very popular, thus trying to retune a hptuners locked ECU will not work due to hptuners tune locking.
Unlock My ECU!(UME) finds the custom unlock key to allow reading and writing to the ECU. This key is a password, without the password you cannot access the ECU in anyway.
Ontop of having a custom key to get into the ECU, HPtuners also locks a tune to a specific HPTuners cable.
What this means, is if you attempt to read an ECU using HPTuners that has been locked with a different HPTuners cable, you will receive a warning saying "Locked by another tuner" even after entering the correct unlock key.
The above warning occurs because the HPTuners cable attempting to read out the ECU does not have a license to tune that ECU and therefore is NOT allowed to view or edit that tune!
This is a HPTuners specific lock and only affects HPTuners, thus an ECU can be read out and written to using EFILive or TunerCats as it is not affected by the HPTuners tune lock!
Q: Where do I find TunerCats?
A: Unfortunately as far as I am aware, it is no longer available to purchase!. But, there are some people that are selling off their laptop with its license and cable as a kit. At this point in time, this is the only way to purchase TunerCats.
Q: I have my own ELM cable, can I use that?
A: Only our ELM cable is to be used with UME. This ensures a fully functioning cable is being used. This has been made mandatory due to previous buyers attempting to use cheap and faulty units found on Ebay which do not work from the beginning and were not compatible with the software. This is non-negotiable!
Q: When does my Subscription start and finish?
A: Your subscription will start from the moment you register UME using your subscription license serial. If you purchase a 30day license serial, this will last for 30days from the time you register the license serial in UME, not from the moment you purchase.
Q: I have multiple computers, Can I run it on all of them?
A: One license serial can only be used to register the software onto ONE computer. Multiple computers will all require their own purchased license. Also note that each computer would also require its own diagnostic cable!
Q: I have already purchased a previous subscription and don't need another cable, can I get a discount?
A: You sure can! All first time buyers must use the supplied cable to ensure a fully functioning unit is received. If you are after a second subscription later down the track, then you can purchase the software separately.
Q: I need to retune/wipe locked ECU's, but do not want others to be able to see my hard tuning work?
A: Yes I completely agree, and this is where the moral dilemma kicks in! If I could make software to wipe an ECU clean I would!
No-one wants their hard work to be copied, but then still need to be able to access locked ECU's to perform a full retune, unfortunately you cannot have one without the other. Almost all tuning shops currently use an unlocking service, prices ranging from $50-150 per ECU which racks up significantly.
Unlocking services have been around for as long as the ability to lock an ECU has, the only difference now with UME is the unlocking can be completed in house rather then shipped interstate or overseas, drastically reducing lose of shipment and also minimizing costs.
The "cowboys" that copy a tune and offer "mail order" services which has been going on for many years, will never understand the tune, and will solely be to blame when (not if) they attempt to flash a vehicle which is not suitable causing massive engine damage, or brick an incompatible ECU!
A real tuner (As many can agree!), just need an ECU set back to factory so they can perform their own work.
It is my hope that EFILive or HPTuners will bring out a side application that allows the ability to flash any ECU back to standard using the correct key. This would solve the moral dilemma and significantly help the tuning community.
---
News Update!!
Thankyou for all the initial subscription buyers that have continued to use our application from the beginning!
All purchases have been used to continue research and development into adding more support for other ECU's and researching into various default tuner locked ECU algorithms to drastically speed up the process!
Initial subscribers have been rewarded with a years free subscription and also access to recommended keys to try for default tuner locked ECU's.
Pricing has also been updated and significantly reduced to be more affordable for everyone as initial costs have finally been covered.